How to chat anonymously on WhatsApp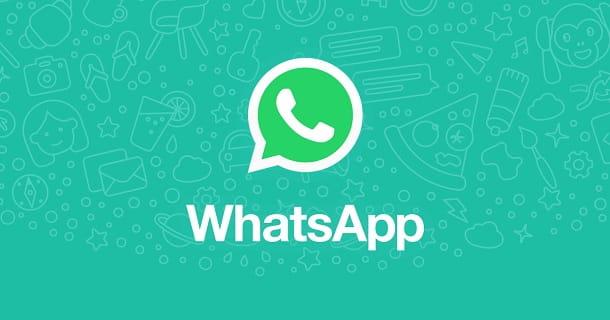 Before explaining to you how to chat anonymously on WhatsApp, let us provide some other important information in this regard.
As already mentioned a few lines above, for obvious reasons related to privacy, WhatsApp does not offer any functionality that allows you to contact a user anonymously. This means that to text someone while keeping your identity hidden, you will have to resort to some "tricks", like the ones I'm about to tell you about.
In any case, the methods I'm going to illustrate shouldn't be too complicated to follow and apply. In fact, for one of these you will simply need another SIM card, while the second method is to use the services they offer temporary phone numbers to be used for almost any need. You just have to keep reading this guide to get all the information you need!
Use a secondary SIM card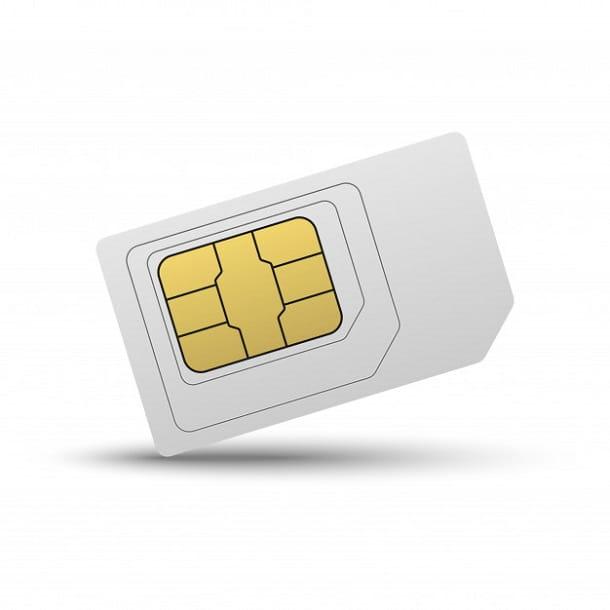 The simplest way to send a message on WhatsApp without revealing his identity, he is undoubtedly that of use a secondary SIM card. You can then use a secondary number or another person's number to contact someone, just like you would with your own phone.
However, before proceeding with this method, make sure that the recipient has not already saved the SIM number you are going to use in the address book (unless it is irrelevant to your preferences), or it will all be useless. To do this, you can consult my special guide where I show you how to understand who has your number in the phone book.
If you want to use your phone to enter a secondary SIM card, make sure before making a backup of your WhatsApp data, since you are going to connect an account other than the one registered on your main number and you would therefore risk losing your chats. To do this, I refer you to my guide where I explain how to backup WhatsApp.
In case you don't have a secondary SIM card, you can always borrow the someone else's phone, possibly that is not already present on WhatsApp, and use it to send the message without letting the recipient know that you are the sender.
If, on the other hand, you have a phone with a stand dual SIM, you can insert the secondary SIM card inside your device (if you don't know how to do it, I wrote some guides dedicated to Samsung, Huawei and iPhone devices) and use a second account on WhatsApp on the same device. Through this method, there will be no need to remove your WhatsApp account before proceeding, as the Dual SIM system allows you to have two WhatsApp profiles at the same time, following some steps.
Alternatively, you could also opt for the use of WhatsApp Business: the version of WhatsApp for businesses and professionals, which can be activated on a device on which the "classic" WhatsApp is already present, but with another number. For more information, read my guide on how to have two WhatsApp accounts.
Obviously, before you can use a number other than your main one on WhatsApp, you must register the latter within the application. For all the details, you can consult my guide where I show you how to sign up for WhatsApp.
After gaining access to a second phone number on WhatsApp, you just have to contact the person you want to send the message to "anonymously" and that's it. The recipient, of course, will see the number you sent the message from but, not knowing it, they won't know it's you.
Use a temporary number

In case you cannot get a secondary SIM card and therefore find yourself unable to follow the instructions in the previous chapter, fear not: there is another solution you could try to use.
In fact, you should know that there are services that allow you to take advantage of temporary phone numbers. These work almost like a regular phone number, so obviously they can also be used for applications like WhatsApp. The problem is that these numbers are not very numerous, especially considering the fact that they are within the reach of anyone with an Internet connection. This means that it may be difficult to get a working number when needed (and WhatsApp tends to block them after a certain amount of attempted activations with the same address).
In short, finding a working "temporary number" could be very complex. Furthermore, I invite you to pay attention to the services you decide to rely on to obtain a temporary number, as many may not be reliable and therefore harmful as regards your privacy or your data. For this reason, I invite you to keep away from sites or services that, for example, require your personal data to be able to access their functions, since usually this type of services do not require registration.
You can find a service dedicated to publishing temporary numbers with a simple Google search, using terms like "Fake phone number for verification". At this point, click on the result you prefer (after verifying the reliability of the chosen site) and get a temporary number to use to create an account on WhatsApp.
Since, as I mentioned in the previous paragraphs, the temporary numbers available are usually few and almost always have already been used, the only thing you can do to be able to grab a number is to keep trying with more numbers, until until you can find a working one. Keep in mind that if you really can't find any from the service you have selected, you can always use another one.
Once you've managed to get yourself a temporary number, it's time to use it to create an account on WhatsApp. Before proceeding, if you are using the number to create a WhatsApp account on a device where the application was already installed and in use previously, I renew my advice to make a backup of the data, so as not to risk that these are lost.
First, then, open the application on your Android device or on your iPhone, enter the temporary number that you selected from the service page and follow the classic procedure to activate WhatsApp.
Once you have managed to create the account on WhatsApp, you just have to send a message, as usual, to the person you want to contact anonymously. That's all: with a bit of luck, you will be able to get a number to use to contact anyone on WhatsApp, but know that this numbering could be blocked by the service at any time (as it will remain available on the Net on the service that generated it, so many other users will try to use it to access the famous messaging app).