From web browser
As I told you, on the net there are some services that allow you to convert files to PDF directly and comfortably from the web browser, without having to install some on your computer. They are completely free and, by no means insignificant, protect the privacy of users by deleting the files that are uploaded to their servers after upload.
CloudConvert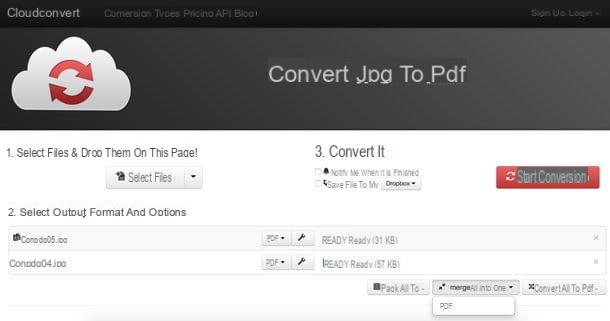 The first online service to convert files to PDF that I suggest you turn to is CloudConvert. It is a "universal" converter that allows you to work on a huge range of files in various formats, including PDF, of course. It has an upload limit of 100 MB that can be raised to 1 GB if you create a free account on the site (by clicking on the button Sign Up located at the top right).
To use CloudConvert, connected to its home page using the link I have just provided, drag the documents to convert to PDF in the browser window and click on the button Start conversion. Then wait for the documents to be processed and download their version in PDF format by clicking on the button Download that appears next to their names.
Optionally, you can also merge two or more files into one PDF document. Just select the item PDF give menu to tendin merge all into one located at the bottom right instead of clicking on the "Start conversion" button.
From computer
Do you prefer to use a much more "traditional" computer program to convert files to PDF? Then you can rely on the solutions you find indicated right below. They are free and simple to use. Try them now and you will see that you will not regret it.
PDFill FREE PDF Tools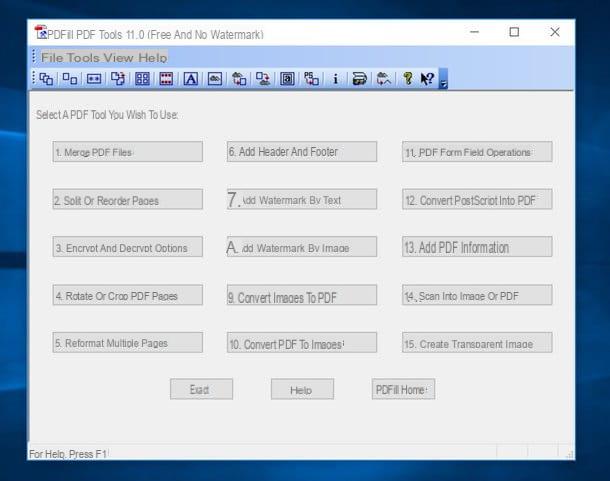 Do you own a Windows PC? Then use PDFill FREE PDF Tools. It is a suite of tools for editing and converting documents in PDF format that can be used at no cost for both personal and commercial purposes.
To download PDFill FREE PDF Tools on your computer, connect to the official website of the program using the link I gave you a moment ago and first click on the button Download now placed under the heading Get this tool onlyand then on the button Download now present on the page that if you press.
When the download is complete, open the file PDFill_PDF_Tools_FREE.exe just downloaded on your PC then click on the button first Yes and then Next. Then put the check mark next to the item I accept the terms in the License Agreement and complete the setup by clicking on the button Next twice in a row, on the button install e poi quello Finish.
If during the installation process you are asked to install Ghostscript e . Net Framework, accept. In fact, these are two free software without which it would not be possible to use many of the functions included in PDFill FREE PDF Tools (they are not promotional content, don't worry).
When installation is complete, start PDFill FREE PDF Tools and start the tool to convert images to PDF by clicking on the button Convert images to PDF. Then, drag the images to include in the PDF into the window that opens, arrange them in the order you like using the buttons Move Up (move up) e Move down (move down) and click the button Save as to save the final PDF in a folder of your choice.
Preview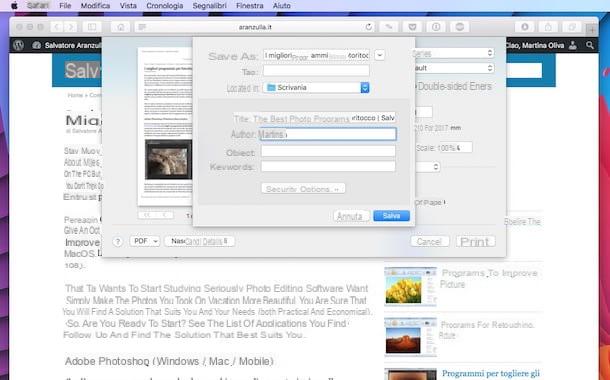 If you are using a Mac, you can convert files to PDF without installing additional programs on your computer. To succeed in your intent, you just need to use the virtual printer included "as standard" within the operating system. This means that to convert a web page, document or any other printable content to PDF, all you have to do is call the function Stampa ... from the menu Fillet.
Next you have to select the item Save come PDF ... give menu to tendin PDF which is located at the bottom left and you have to choose the folder in which to export the document.
Finally, you have to type the name of the file, the title, the author and the object you want to attribute to the final document in the appropriate fields displayed on the screen, you have to choose which folder to save it through the menu Located in: and then you have to click on the button Save but I will complete the operation.
Eventually, you can also protect the PDF file from unauthorized viewing, editing and printing by pressing the button Security options ... and setting a barring password.
Give smartphone and tablet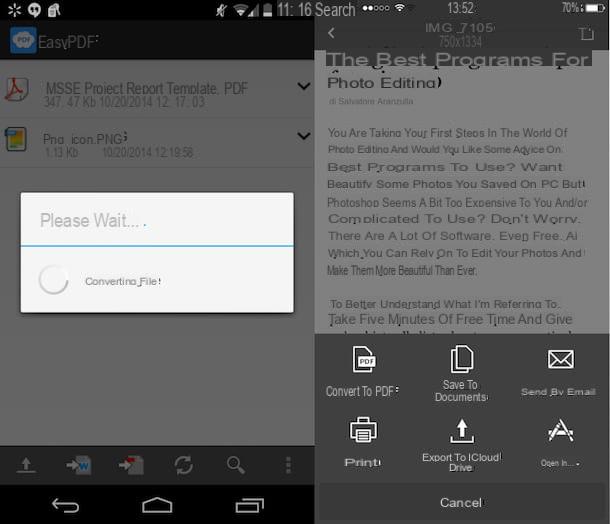 In conclusion, let me point out some very useful apps that can allow you to convert files to PDF on smartphones and tablets in a very simple way and that can also be useful for carrying out further editing operations on files of this type. There are both for iOS and Android as well as for Windows mobile devices. You can find them indicated below.
PDF Conversion Suite - As the name can easily understand, it is a real suite for converting files into PDF format (as well as TIFF). In fact, the app allows you to convert all common file formats into PDF documents quickly and easily. It's free and available for Android and iOS.
easyPDF - This is an app that allows you to convert Office documents and images into PDF format and to perform the reverse operation, all in an extremely simple and fast way. It is possible to call up the use of easyPDF from any other application for word processing, for the management of e-mails and for the use of cloud storage services. It's free and available for Android and iOS.
Exodus PDF - It is one of the most complete free solutions for editing PDFs in the mobile environment. It allows you to convert files to PDF, write on documents, add arrows, highlights and so on. It also integrates with Dropbox, Google Drive, and other cloud storage services. It's free and available for Android, iOS and Windows.
PDF Expert - This is probably the best PDF editor on the market. It allows you to add any type of annotation, highlighting and comment to your documents with extreme simplicity and allows you to convert the images saved in the roll into files in PDF format. It also includes several advanced options for exporting documents and supports all major cloud storage services. It costs 9,99 euros and is only available for iOS.
How to convert files to PDF