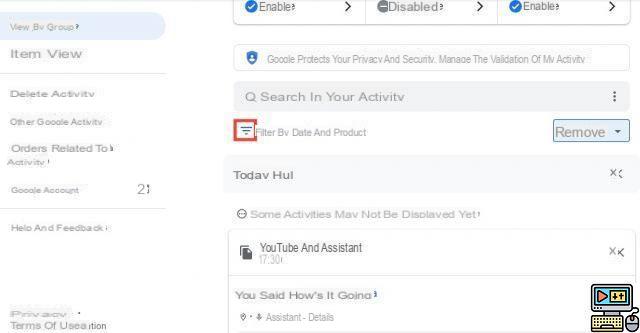 "Ok Google, what's the weather like today?" This voice-activated search tool can be extremely handy. However, one can also be wary of the amount of things that this service "tells" us to Google. Especially since we cannot be 100% sure of the use made of it. Hence the interest of deleting and deactivating the Ok Google request history.
Launched in 2016, Google Assistant has since become a permanent fixture in usage. Many people use it regularly to obtain contextual information and information, manage their agenda, play music, make calls or even order connected objects. To activate it, simply precede your request with "Ok Google" or "Hey Google".
Now, when you activate Google Assistant, you must accept or not the recording of audio interactions. The firm will then use it to improve its recognition technologies. "For this, an audio sample is analyzed by qualified specialists who listen to it, transcribe it and annotate it. This process helps services better understand what users are saying.
Lire aussi >> Google: location, 'Ok Google', history... find out what the firm collects
Google Assistant: recordings can be triggered without your knowledge
However, you may have enabled retention by mistake. Or that your queries have been kept by default by Google without you knowing it. Another scenario: you no longer wish to share your recordings with the firm, fearing that they will be used for advertising purposes. It is also possible that Google sometimes registers you without your knowledge, believing that you have said the magic word "Ok Google" when you have not.
Even though all this data is anonymous – according to Google – it can chill more than one. Nobody would like an intimate conservation or a sensitive professional comment to end up in the ears of the employees of the web giant.
By digging through our history, we also found a slew of strange records that had nothing to do with a request intended for the Assistant. Which shows that the Assistant can poke his nose unexpectedly. Fortunately, it is possible to end by following the steps in this tutorial.
How to delete your Ok Google search history
On a device where your Google Account is logged in, click this link.
You will have access on this page to all of your Google activity. Click on the three horizontal bars to filter by date and product.
You can get the results forever or only for a specific period. Up to you !
Then check the box to the right ofAssistant then click Apply.
A page with all saved queries pops up. You can delete them individually or by day by clicking on the cross. You can even listen to them again if you like.
You can also delete all your requests at once by pressing the button Remove. To do this, you must specify The whole period in the filter by date.
Good game ! You've cleaned up your archives!
How to turn off Ok Google history
Instead of deleting your Google Assistant history every time, you have the option to turn it off. Here's the procedure to follow :
On your mobile device, follow the following path: Settings > Google > Manage your Google account.
Then click on the tab Data and privacy at the top of the displayed page.
Scroll down then access the section Web and App Activity in category History settings.
Scroll down then uncheck the box Include audio recordings. Confirm the maneuver on the next page by clicking on deactivate.
Ok Google search history is now disabled!
Lire aussi >> Google Assistant and connected objects: you can finally schedule tasks according to hours
The editorial advises you:
Google Chrome: tricks and hidden browser features
WhatsApp: 20 hidden features that will make your life easier
Insufficient storage: how to clean your Android smartphone
The ability to speed up or slow down a video on YouTube can be very useful. It was possible to do this in the web version of the platform for a while...Google Chrome includes a reading mode that allows you to consult a page in optimal conditions. The functionality, however, is hidden in the bowels of the browser. In this tutorial,…Google Chrome records everything you do while browsing the web. If you want to browse without leaving traces, here's how to clean up your browsing history. The Messages application on Android offers you the possibility of sending SMS, MMS and also RCS chats from a PC or Mac. To use this feature, just…