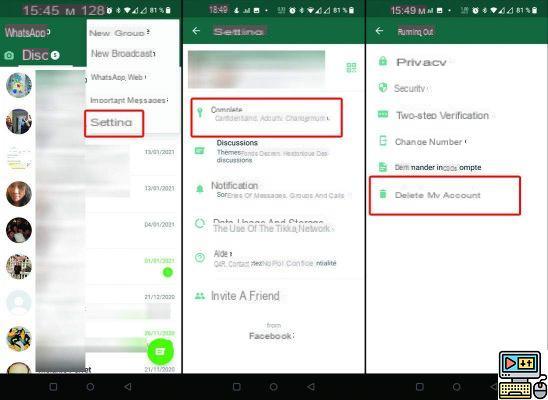 You want to delete your WhatsApp account and migrate to another application. Or do you just want to replace the current account with a new one? In both cases, it is entirely possible. In this tutorial, we show you how to do it.
WhatsApp is one of the most widely used messaging apps in the world. It has more than two billion active users worldwide. It works somewhat differently from most other apps in that all accounts are tied to a phone number.
If you want to use WhatsApp without your phone number, the only option is to go through a virtual number or take a secondary SIM that no one or few people know about you. And in case you want to delete an existing WhatsApp account, it is also very easy to do so.
Deleting WhatsApp on a smartphone by uninstalling it is not enough to get rid of its account. It remains active for as long as the account is not closed. Your contacts will therefore be able to continue to see your profile photo and your news (not the statuses). This information is proof that the account is still active even if you don't really use that number with WhatsApp anymore.
Delete a WhatsApp account: how to proceed?
Before showing you how to delete your WhatsApp account, Note that this action is irreversible and that there is no going back once this has been done. After deleting your account, you will not have access to chat history. This is despite WhatsApp claiming that it takes up to 90 days for data to disappear from its servers.
Also, if you delete your account, WhatsApp removes you from all chat groups you participate in. Your profile picture, your news and your current statuses disappear. However, your contacts will still be able to access their chat thread with you, complete with all message history.
Open WhatsApp
Tap three vertical points in the upper right corner
Go to the menu Account
At the bottom, click Supprimer mon compte
Then enter your phone number preceded by the country code
Press Carry on at the bottom of the screen to validate the deletion of the account
In case you want to change your WhatsApp phone number, the process is almost the same: go to Settings > Account and select the option Change number and follow the process to the end. The new number replaces the old one.
WhatsApp keeps you in your chat groups with the new number. The old account will simply be deleted with the same consequences listed above. Finally, in case you want to leave WhatsApp to migrate to Signal, here is our complete guide to get you started.
The editorial advises you:
How to delete your Facebook account
How to migrate from WhatsApp to Signal: the complete guide
How to delete your Instagram account?
It's easy to tell if a contact has blocked you on WhatsApp, but some indicators can also trick you into believing it unfairly. So how do you know… You sent a message by mistake on WhatsApp and want to delete it? It is quite possible as we explain in this tutorial. WhatsApp is full of features…WhatsApp now allows you to disable notifications from a conversation for life. Something to let you breathe when the latter are incessant. Here's how. Notifications are often abusive.…The photos you receive on WhatsApp end up in your gallery by default. But a very simple maneuver allows you to stop the automatic backup, which turns out to be very…