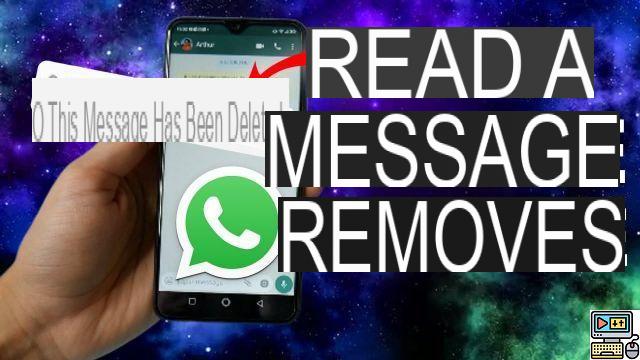 You can recover deleted messages on WhatsApp. In this tutorial, we will see how to restore your messages deleted by mistake.
WhatsApp offers many privacy options to protect your privacy. Among them, we find the possibility of deleting messages. This functionality has always existed. Although deleting a message sent by mistake to the recipient has only been possible since 2017. On all messaging applications, deleting a message is irreversible. The way WhatsApp works, however, gives you a reprieve.
WhatsApp: how to recover a message deleted by mistake
The only functional way to recover a message deleted by mistake is from restore from backup. Unlike most instant messaging apps, WhatsApp saves chats locally. The application makes a backup regularly on the internal memory and/or in the Cloud (Google Drive). If any messages are important enough to warrant restoring, this is your only chance to recover them.
However, you cannot restore a deleted message that was sent or received after the last backup. WhatsApp only backs up once every 24 hours (at 2 a.m.). As for backups in the Cloud, they are carried out by default once a week.
However, you can configure a daily backup by going to Settings> Discussions> Chat backup. In the Google Drive Settings section, select Backup to Google Drive and choose Daily in the menu that opens.
Lire aussi : WhatsApp will soon allow using the same account on multiple devices
Restore a WhatsApp backup
If you restore from the same smartphone, WhatsApp recovers the messages from the local backup. The backups are in the folder WhatsApp > Database to internal memory or SD storage. To recover the last backup:
Uninstall and reinstall WhatsApp.
Open WhatsApp and verify your number.
When prompted, tap RESTORE to restore your locally backed up chats and media.
Once the restore process is complete, tap NEXT. Your chats will appear after initialization is complete.
Recover deleted WhatsApp message before last backup
If WhatsApp backs up after deleting a message, the last state of the thread is retained. In other words, a message deleted before the last backup cannot be recovered in the event of a restore. It is permanently lost…unless you restore an older backup (previous) to the deleted message.
The good news is that WhatsApp keeps a different file for each daily backup over the last 7 days. If the last backup containing the messages you wish to recover was made within this period, you can restore it by choosing the file corresponding to the correct date.
Open your smartphone's file manager.
Access the folder WhatsApp> Databases from internal memory or SD storage.
Backup files are named according to the format msgstore-YYYY-MM-DD.1.db.crypt12, except the duplicate of the most recent backup that has the name msgstore.db.crypt12. Delete this file.
Rename the msgstore-YYYY-MM-DD.1.db.crypt12 file (corresponding to the backup date you want to restore) to msgstore.db.crypt12.
Uninstall and reinstall WhatsApp.
Tap RESTORE when prompted.
The editorial advises you:
WhatsApp Web: how to read and send your messages from a PC or MAC
Android: how to transfer your SMS and MMS to a new smartphone
It's easy to tell if a contact has blocked you on WhatsApp, but some indicators can also trick you into believing it unfairly. So how do you know… You sent a message by mistake on WhatsApp and want to delete it? It is quite possible as we explain in this tutorial. WhatsApp is full of features…WhatsApp now allows you to disable notifications from a conversation for life. Something to let you breathe when the latter are incessant. Here's how. Notifications are often abusive.…The photos you receive on WhatsApp end up in your gallery by default. But a very simple maneuver allows you to stop the automatic backup, which turns out to be very…