Do you want to start using Windows 11 now? If you have a PC running Windows 10, the operation is quite simple, fast and above all, it is free. Here's how to go about updating your Windows 10 computer to Windows 11.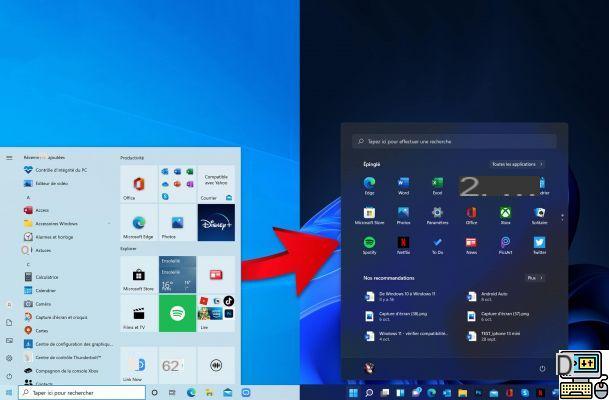 Windows 11 is available and the good news is thatit is free when you already have a Windows 10 license. If the update is simple and is officially done via Windows Update, this method is not available to all computers for the moment. Microsoft has announced that the deployment of Windows 11 via Windows Update will be done in stages:
Newly marketed PCs have priority, like Surface computers and tablets (which are designed by Microsoft, you are never better served than by yourself)
Then come the computers released very recently (during the summer or at the start of the 2021 school year)
then Microsoft and the manufacturers will go back over the year and previous years
Ultimately, it may take several months for your computer to benefit from Windows 11. And that's a little frustrating ... Good news: you have the possibility to "push" the update and that's what we're going to see here. Here too, the operation is fairly simple and quick to perform. We explain how to do it.
Remember, and the info is important, not all PCs are eligible for Windows 11. Your machine must meet very specific criteria, such as having a TPM 2.0 module (all PCs since 2016 have one), but also have a very recent CPU.
Should I make a backup of my data before migrating to Windows 11?
We have updated on more than fifteen PCs and have not suffered any loss of personal data. All the migrations were carried out without any problems, even if some were very long than others. The operation on one of our test computers took over an hour and a quarter, while on the others it took between 30 and 40 minutes.
But in the end, everything went perfectly: no blue or black screen, no lost or corrupted file, no error window explaining that the migration is ultimately impossible even though it has been under way for a few minutes ...
If you are concerned about the loss of personal data during the migration, do not hesitate to save to the cloud. In our case, we have chosen OneDrive for its full integration with Windows, but there are many others, such as Google Drive, Dropbox, etc.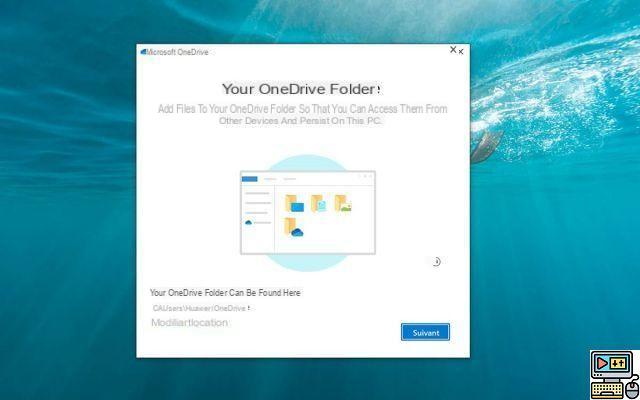 Another solution: save your personal files on an external medium (a USB key or disk, for example). Finally, last solution: use backup software like Macrium Refect, which performs full backup partition or hard drive. Backup that you can save to the Cloud if you have enough space, or to external media.
Finally, if the migration goes badly, it is always possible to revert to Windows 10. During the update, the operating system creates a backup of the current configuration. You can easily restore Windows 10 if Windows 11 crashes or is unhappy with you. In the latter case, you have 10 days to perform the restore operation.
How to check that a PC is compatible with Windows 11
Before jumping into an update to Windows 11, first make sure that your hardware configuration is compatible with the new operating system. You must first have a 64-bit architecture. Do not hesitate to take a look at our tutorial to find out if your Windows 10 PC is running 32 or 64 bits.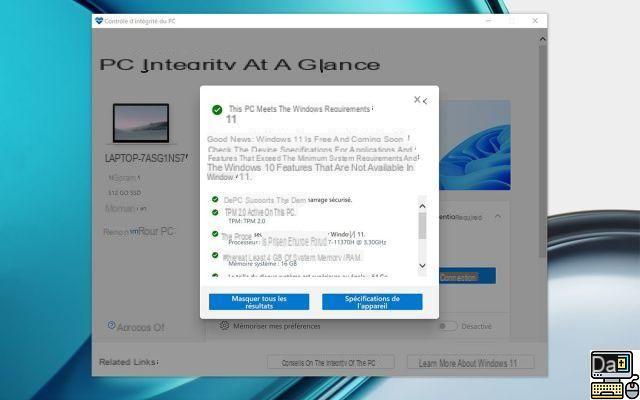 Then, your machine must meet the following minimum conditions:
Recent 1 Ghz / 2 cores / 64 bits processor
4 Go RAM
64 GB storage
UEFI-compliant secure boot
TPM 2.0
DirectX 12 compatible graphics card with WDDM 2.0 driver
Display in 720p / diagonal greater than 9 inches / 8 bits per color channel
Internet connection and Microsoft account for Windows 11 Home edition
To find out if your PC meets all of these requirements, Microsoft offers a small utility called PC Health Check. Finally, if ever your machine is not eligible and does not allow Windows 11 to be installed "in theory", all is not lost: you can still install Windows 11 on an incompatible PC as described in our tutorial.
Download PC Health Check
Update Windows 10 to Windows 11 using Windows Update
As explained above, if your PC was released very recently, you should benefit from updating to Windows 11 through Windows Update. It is the simplest and fastest operation possible. To do this, proceed as follows:
Open the application Parameters by clicking on the button Start. The application in question is symbolized by a small toothed wheel. You can also simultaneously press the keys [Windows] + [I], it comes to the same thing.
In the window that opens, click Update and security
Then head to Windows Update and press the button Check for updates
You should then see the Windows 11 update appear.
The download and installation and automatic operation. You don't have to do anything except wait for about 11 minutes. The PC should restart on its own. Windows XNUMX is then installed.
Download and install Windows 11 from the Microsoft site
If no update to Windows 11 appears on Windows Update, all is not lost. It is possible to force the installation of the new operating system a little, provided of course that your machine is eligible. To update Windows 10 to Windows 11 "manually", here's how you do it:
Get the update wizard by clicking on the button below (direct link)
Download the Windows 11 installation wizard
Double-click on the program to install it
The program will take care of itself to check your hardware configuration. You have nothing to do. It will also download all the programs essential for installing Windows 11. Again, the operation is automatic.
Download Windows 11 ISO file to update on multiple PCs
Note that there is another way to install Windows 11, which is to download an ISO image of the operating system. This type of operation can be particularly useful if you have several PCs to update. One download is enough. And you can even save the ISO in question on a USB stick and have a PC boot directly from it, in order to install Windows 11 on a brand new computer.
To download the Windows 11 ISO and install it from Windows 10, here's how:
Click on the button below. Meeting on Windows 11 Disk Image (ISO) Download. In the Download selection section, go for Windows 11 (there shouldn't be any other choice possible, anyway. Press the Download button. Then select a product language. From then on, a new 64-bit Download button appears, click on it.
Download Windows 11 ISO File
A file titled Win11_French_x64.iso then downloads. It is over 5 GB.
Once the ISO image has been recovered, all you have to do is double-click it to start the procedure for installing Windows 11 from Windows 10.
Last point: from the Microsoft page that you have just visited, it is also possible to save the ISO on an external medium and have it launch automatically when the PC starts up. This function can be accessed from the section Creating a Windows 11 installation medium. You will need a "blank" USB key of at least 8 GB, in order to store the Windows 11 installation files. Once created, this type of bootable USB key also allows you to migrate from Windows 10 to Windows 11 (in this case, do not restart the computer, just leave the key in the USB port of the computer and double-click on it to start the installation procedure).
How to install Windows 11: our video tutorial