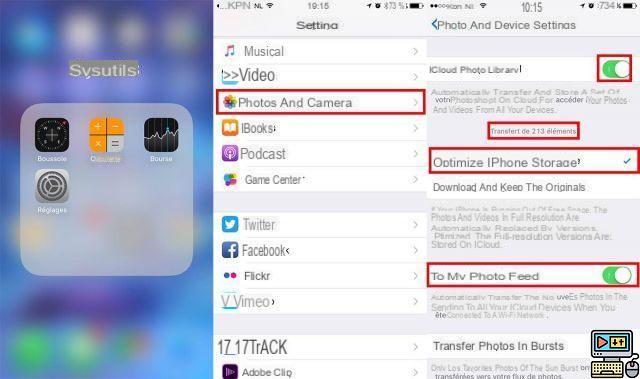 In 2021, iPhones and iPads still don't have SD card readers. When buying, you must either favor a model with more GB for a fee, or regularly make room. That being said, there are a few tricks to freeing up space if your storage space is regularly full. All without necessarily having to delete your applications... Here's how.
In this tutorial, we offer some tips for save available storage space on iPhone and iPad as much as possible. We will also see how to identify what takes up the most space, but also how to know what to delete if necessary. The manipulations were carried out on an iPhone, but keep in mind that it works just as well on iPad, the menus being exactly the same.
How to free up storage space on your iPhone or iPad?
We will therefore first give you some advice for free up storage space on your iPhone or iPad, but without deleting anything. Before showing you how to free up space directly within applications, such as Photos, Spotify and Messages which are the ones that take up the most space, apart from video games.
How to free up space on iPhone but without deleting data?
Our first tip concerns iCloud and Photos and Videos, which tend to take up a lot of space. You can indeed easily optimize photo and video storage with iCloud, here's how.
Go to Settings > Photos & Device (or Photos depending on your iOS version), turn on iCloud Photo Library, check Optimize iPhone Storage, and uncheck To My Photo Stream.
After activating the options, and making sure that you are connected to Wi-Fi, the iPhone will automatically transfer all the photos and videos in high definition to the cloud, to preserve only low resolution versions on the iPhone. If you subsequently view the content in question, it will be downloaded on demand from the iCloud servers.
The application Messages also takes up a lot of space. A tip also exists specifically for her.
Go to Settings > Messages scroll down the list to check Lower image quality. You can also choose to keep messages for only 30 days in Keep Messages.
This will have the effect of keeping in the application only compressed versions of the images that you exchange in your conversations. In addition, you can reduce the retention period of your messages so that the oldest ones (and their attachments) are automatically deleted.
Some tips to free up space on iPhone and iPad
Of course, other tricks exist. Google, for example, offers a photos application that stores images in the cloud, Google Photos, which can also be an interesting alternative to your iPhone's internal storage. Amazon Photos is another option.
Consider using other cloud services like iCloud Drive, Google Drive, or Dropbox to store your files, especially large videos. For music, prefer streaming, like Spotify, Deezer, Apple Music, see YouTube app. If you have installed one or more of these apps, check that playlists in offline mode do not take up too much space. Do not hesitate to watch our tutorial to quickly recover space on Google Drive, Photos and Gmail.
Obviously, these manipulations only concern optimization. Sometimes the problem is more pressing and you have to go directly to the delete box. What we will see immediately.
How do I know what I can delete on iPhone?
We are going to analyze the storage of one of our iPhones in order to see how to recover space, application by application.
Go to Settings > General > Local Storage & iCloud > Manage Storage
Load this list that shows how much space your apps take up in total, along with their data.
In this case, the problem comes from the data of Photos, which takes up 18,79 GB (which is a lot, especially on a 64 GB iPhone). You can then easily free up space by selecting Photos from the home screen and deleting the videos first, since they are the ones that take up space.
As you can see above, the application Spotify also takes up space. Consider deleting offline playlists, for example.
The Lara Croft Go game, above, also takes up 1,04 GB. If you no longer use certain games, you can simply delete them from this menu (the data will be recoverable if you reinstall them later) or from the home screen.
Want to save even more space? Also learn how to remove native apps from iPhone.
The editorial advises you:
Insufficient storage: how to clean your Android smartphone
Google Drive, Photos, Gmail: how to quickly free up storage space
iPhone: How to Recover Deleted Photos?
The 2022 iPad Pro is going to be redesigned and will have wireless charging capability, like Apple's other mobile devices. After the presentation of the iPad mini 6,… All the power of a Mac computer on your eyes: this is what Apple promises in its future mixed reality headset, scheduled for the end of 2022. While the Apple Watch, the 'iPad… Do you have an iPhone and want to change your PIN code? The option, buried in the twists and turns, of iOS is not so easy to find. However, this code ... There are a few options available to unlock an iPhone. Some online services offer to do this quickly for a few euros. The law also obliges operators to do it for free ...