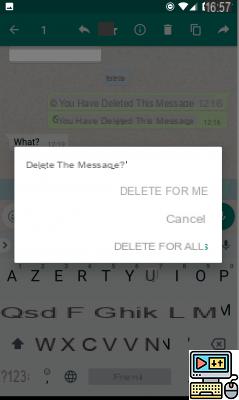 You sent a message by mistake on WhatsApp and want to delete it? It is quite possible as we explain in this tutorial.
WhatsApp is full of hidden features which are very convenient for users. Among them, we find in particular deleting messages. This is necessary in many situations. Did you send a text full of spelling or syntax errors in a professional conversation? Sent a naughty message to the wrong person? You mistranscribed the bottom of your thought and fear the misunderstanding?
If you delete your message before it is read, your contact will see nothing but fire (or almost since a mention "This message has been deleted" will appear in the conversation). Also note that deletion for all members of the discussion will be possible a maximum of one hour after sending. After this time, you can only delete the message for yourself. Finally, be aware that WhatsApp will not notify you if the deletion for everyone has failed.
Lire aussi >> WhatsApp: How to Mute Notifications Forever
WhatsApp: how to delete a message sent by mistake
Do you want to delete one or more messages in an individual or group conversation? Here's the procedure to follow :
Start by opening WhatsApp on your smartphone.
Go to the relevant discussion.
Keep your finger pressed on the message to be deleted.
You can also select more than one if you want to perform a mass deletion. To do this, simply touch the other targeted messages after performing the previous step.
Click on the trash can symbol and then on Delete for all.
Lire aussi >> WhatsApp: how to hide your private photos in the gallery
That's it that's all. You have successfully deleted your post and hopefully no one has viewed it yet. We also checked if the deleted message still appears in the push notification, which would be a significant flaw.
And it is clear that this is not the case. We only see the mention "This message has been deleted" in the notification received as you can see on this screenshot:
The editorial advises you:
WhatsApp: 20 hidden features that will make your life easier
How to Transfer WhatsApp Conversations from iPhone to Android Smartphone
How to recover deleted messages on WhatsApp?
It's easy to tell if a contact has blocked you on WhatsApp, but some indicators can also trick you into believing it unfairly. So how do you know…WhatsApp now allows you to disable notifications for a conversation for life. Something to let you breathe when the latter are incessant. Here's how. Notifications are often abusive.…The photos you receive on WhatsApp end up in your gallery by default. But a very simple maneuver allows you to stop the automatic backup, which turns out to be very… Do you really know WhatsApp inside and out? Here's how to access 20 useful features for maximum convenience. Write in another format, export an entire conversation,…