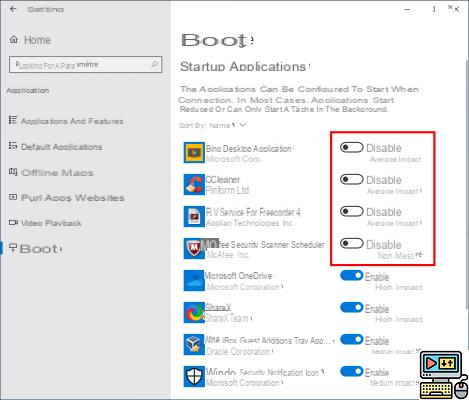 Several reasons can justify the need to disable applications at Windows 10 startup. The main one is none other than the slowness they can cause when the system is turned on. Disabling apps at startup in Windows 10 is very easy, even more so since the April 2018 update. For those who have never done it, here's how to do it.
We may have a beast of power as a machine, we are never safe from small problems of slowness under Windows 10, particularly at startup. Especially since most users disable fast boot for the impact it can have on the lifespan of SSDs. Every second gained is precious and it is undeniable that disable startup apps windows 10 helps to speed up system loading time.
Windows 10: how to disable the automatic launch of applications at startup
You can disable startup apps from Task Manager or use a third-party app like Ccleaner if it's already installed on your computer.
Press the keys simultaneously Ctrl + Shift + Esc to open the task Manager or just right click on taskbar > Task Manager
Once in the manager, click on the "More details" link in the lower left corner of the window
In the tab " Start-up » at the top, you have a list of all the applications that launch at Windows 10 startup
Click on each of the applications that you do not want to be automatically launched when the system is turned on
Then click on the "deactivate" button at the bottom right. You can also right click on each app > Disable
Note that some applications have more impact on startup speed. The system indicates the level of the impact next to the status column. This information could be useful in choosing which applications to disable or not.
Disable startup apps from April 2018 Update
If you regularly update Windows 10, a new option has appeared in the spring system update. The option can be found in Windows Settings, specifically in the Applications menu.
Open Settings (Windows key+I) > Applications
In the left menu, click on Startup
You will see the list of programs start with the system. Flip the switch to the left to disable autostart.
The editorial advises you:
Windows 10: how to disable Cortana to stop being tracked
Windows 10 won't start? Several reasons can cause problems when starting Windows 10 for the first time or after an update: Bad BIOS settings,... The battery is one of the essential parts of our laptops. Like smartphones, battery life is a crucial factor for a good experience. Some applications act…Creating a WiFi access point on Windows 10 in order to share your Internet connection is done in two steps, three steps. We explain the procedure to you in this… On Windows, there are several ways to update the drivers. Generally, these update automatically. But it is sometimes necessary to force the maneuver,…