If you want to download and install Windows 10, we'll explain everything from A to Z. Rest assured, it's fast. The operation is quite simple and only requires a USB key… And a PC, of ​​course. Come on, let's go, we tell you all about the installation of the Microsoft operating system.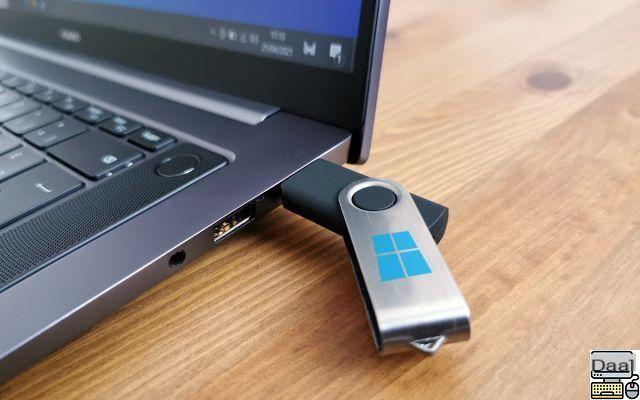 Summary
Why and when to install Windows 10?
How to download Windows 10?
Is Windows 10 free?
Where to buy a Windows 10 key?
How to boot the system from a USB stick?
How to install Windows 10 on my PC?
Install Windows 10 with or without a Microsoft account?
During installation, what privileges should I grant to Windows 10?
Final steps in installing Windows 10
Once Windows 10 is installed, what reflexes to adopt?
Do you absolutely have to use a USB key when you already have Windows 10?
Comments
Need to install Windows 10 on your new PC, or reinstall the whole system on a new hard drive? Or even completely reinstall Windows 10 on your current PC. No worries, it's pretty quick and easy. It usually takes a long time to set up Windows 10 about twenty minutes, sometimes much less depending on the power of your PC. If you've never performed such an operation, here's how to do it.
Why and when to install Windows 10?
The question is legitimate: when you buy a brand new PC, there is a good chance that it will already have Windows 10 installed, whether it is a laptop or a desktop. So why bother to install or reinstall the entire system, when all the work is normally chewed up by the builder?
In reality, several cases can arise. In the first place, you may need to assemble your desktop PC yourself, using new components or old materials recovered here and there. Starting from the fact that the hard drive is blank, you must imperatively install an operating system (like Windows 10, but there are alternatives like a Linux distribution) for the machine to work.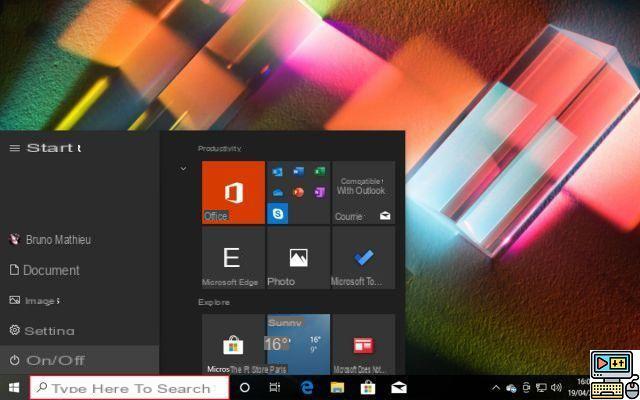 Another case: you have a PC already equipped with Windows 10, but you want to completely reinstall the system. An operation that can prove to be life-saving when the PC crashes and even the Windows 10 recovery tool does not want to know anything. From then on, you will enjoy a "100% clean" installation of the operating system.
Finally, you may have already installed another system or another version of Windows on your machine, and that you want to benefit from a dual boot. Here too, you will need to install Windows 10 from A to Z.
Anyway, here's how to fully install Windows 10. But first of all, get a simple USB stick and D'a computer with an internet connection. These are the only prerequisites.
How to download Windows 10?
If you already have a license for Windows 10, all you need to do is download an ISO file from Microsoft's site. For a while, it was essential to connect to the official site, then select the version of Windows 10 that you wanted to download. Depending on the OS you were using, the handling varied. Today, if this operation is still possible, there is much better: there is a small script that automatically retrieves any version of Windows 10 for you, without even going through the Microsoft site and without worrying about the OS in use.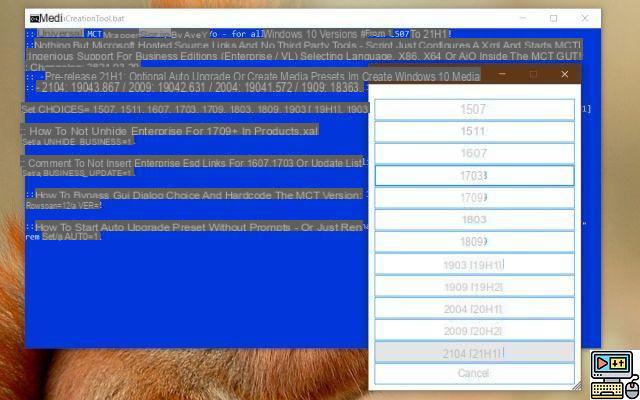 We described this operation in our tutorial dedicated to the free download of Windows 10. In short, the script in question can be downloaded from Github. Unzip it and run the file MediaCreationTool.bat. Select the most recent version of Windows 10 (the latest in the list), and then choose the edition of Windows 10 corresponding to your license and the architecture of your PC.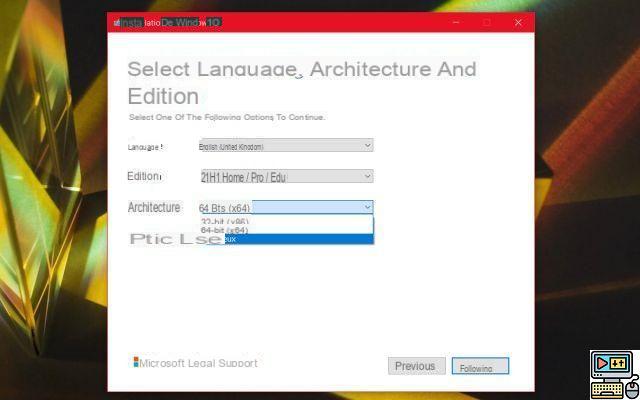 Is Windows 10 free?
Windows 10 is free, but on condition. If you have a license for Windows 7, Windows 8 or Windows 8.1, you can migrate for free to Windows 10. When the OS was released in 2015, Microsoft announced that this operation would last only one year. 6 years later, it is still valid. You can either use Microsoft's Upgrade Tool or download the tool for customers using assistive technologies to do this.
On the other hand, if you do not have any of the three licenses (Windows 7, Windows 8 or Windows 8.1), you will need to acquire a key to use the OS. Rest assured, its price usually does not exceed a few euros, as we will see below.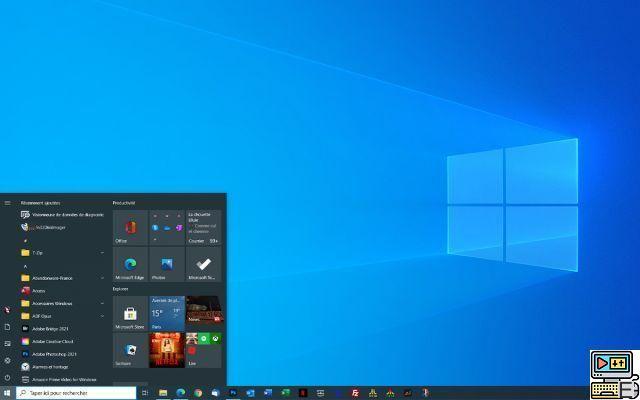 Where to buy a Windows 10 key?
If you do not have a registration key for Windows 10, there are several solutions available to you. You can go through the official Microsoft store. It will cost you 145 € for the Family version or 259 € for the professional version. For a while, Microsoft even provided its system on a USB stick, but this edition is now out of stock. You will therefore need to download the ISO from the Microsoft site, then copy it using one of the software described in our tutorial on how to make a USB key bootable from an ISO file.
However, there are much cheaper solutions to legally obtain a license for Windows 10. A quick web search shows that it is possible to acquire an activation key for around ten euros., whether on Amazon, Cdiscount, etc. Some even provide a bootable Windows 10 USB key. We have tested several of them (like GoDeal34 in the link below) and have never encountered a problem with the registration keys acquired.
BUY WINDOWS 10 ON GODEAL24
How to boot the system from a USB stick?
In order to start the installation of Windows 10, you must make your system boot from the USB key or the optical disc you just created. If this is a PC that you mounted yourself using a new motherboard, the chances are very good that your computer will find a boot device on its own, and that it starts automatically on a USB stick or DVD / Blu-Ray. In this case, there is no particular problem.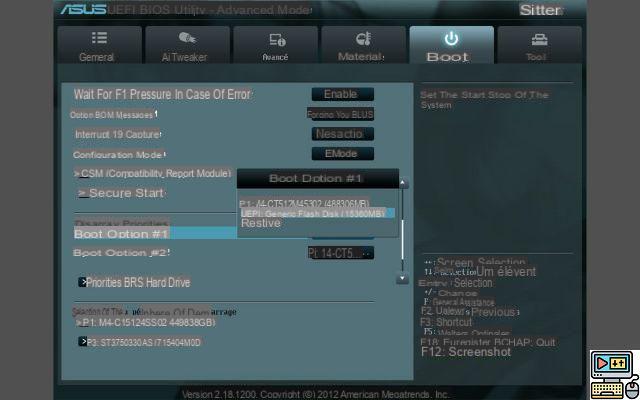 On the other hand, your PC may not start by itself on external media. In this case, you will need to access the BIOS or at theUEFI of your machine. To do this, as soon as your PC is switched on, press one of the following keys (they vary depending on the manufacturer of your motherboard): [F1], [F2], [F10], [F12], [Del], [Esc]. You will then need to look for an option to choose the boot device, like in the screenshot above. Select the USB stick and save the changes.
How to install Windows 10 on my PC?
Now let's get to the heart of the matter. You now have a bootable key or optical disc on which the Windows 10 installation files are saved. Proceed as follows:
Insert the key into one of the USB ports on your machine, or the disk into the drive (if you still have one, as it's a scarce commodity these days). Start your pc.
The installer will ask you first language, time format and keyboard type during the installation procedure. In theory, everything is already set to Spanish, but you can easily adjust these settings if this is not the case or if you want to opt for another language.
La Windows 10 activation key you will then be asked. Enter it. If you don't have one yet, don't panic: just click on I don't have a Product Key. You can enter it once the system is installed.
If you have not entered a key, the installation software will ask you which version of Windows 10 you want to install. This is usually the case either the Family version or the Professional edition. You will also notice the presence of versions «N» of Windows 10. What are the differences compared to the classic edition? Some applications like Windows Media Player, Skype, or voice recorder are not installed. If you decide to do without it, you can opt for this version of Windows 10, even if it does almost nothing to gain in occupancy rate on the hard drive.
Windows 10 then makes sure that your region matches the choice of language that you issued previously. Here again, it is possible to change. You will also have the option of opting for a second keyboard layout (two languages ​​possible within the same instance of Windows).
The installer asks you on the next screen who is using the PC. This can be either personal use or organizational use. If you want to have complete control over your PC, go for the former.
Install Windows 10 with or without a Microsoft account?
It will take now associate your installation of Windows 10 with your Microsoft account… Or not! There are two possibilities available to you. As a reminder, you use a Microsoft account with all of the company's services. When you sign in to Skype, for example, you are using a Microsoft account. Same thing when playing on Xbox. The same goes for your Outlook, Office, etc. In short, you probably have a Microsoft account without knowing it. If you don't have one, it is possible to create one from the installation screen below.
Is a Microsoft account required to install Windows 10? The answer is no. Just click on Offline account and voila. The installation screen that follows then alerts you: to "take advantage of the full range of Microsoft applications and services", you must log into your account. Click on the function Limited experience located at the bottom right, in order to ignore this warning. Keep in mind that without a Microsoft account, some Windows features (including all the synchronization tools, download from the Microsoft Store, etc.) will no longer be accessible. But no matter what, you can change your mind later. Once the OS is set up, you are free to add your Microsoft account to your Windows 10 installation.
If you have chosen to link your Microsoft account to Windows, the installation software will ask you for your login details (email address and password).
You will then be asked to create a pin code. This is a confidential code that you will be asked for each time you log in to Windows 10 and wake up from sleep. Faster to enter than your Microsoft account password, it can still be disabled if needed. And if you ever lose it, you can easily reset it using your Microsoft password.
During installation, what privileges should I grant to Windows 10?
After entering a PIN code, the system will ask you various private questions. Microsoft, for example, wants to geolocate you, in order to provide you with suitable itinerary services and weather forecasts. Nothing obliges you to accept this measure, you are free to refuse it.
The OS also asks if it can send diagnostic data that is "mandatory and optional", or only that which is "mandatory". Here, the choice is limited since the system will send, whatever happens, data concerning your PC, its capacities, etc. What then does Microsoft mean by optional? This is data about the sites you visit and the applications you use. On our side, we have activated the option Send mandatory diagnostic data.
The next screen offers you'' improve handwriting and typing. If you never use a stylus and do not use the Windows virtual keyboard, you can decline this option.
The dialog box which then appears offers you to obtain "Personalized experiences with diagnostic data". Clearly, Windows will display recommendations and especially advertising based on your use (but not the sites you visit) and your configuration. Whether you click yes or no, both ads and recommendations will appear. On the other hand, if you refuse, these announcements will not be targeted. To maintain a certain anonymity, better to click on No.
Another screen appears again. It is quite close to the one you just saw and relates to this Windows applications to use advertising id. Then again, the latter is inevitable whether you accept or refuse. On the other hand, if you click No, the displayed advertising will be more generic and not targeted.
Finally, note that your choices are not final. It will always be to change your preferences once the system is installed by clicking on the start button and going to Parameters > Privacy Policy > Diagnostics and comments. The Microsoft Store app Diagnostic Data Viewer allows you to view all the data that has been recorded. You will even have the option to delete those that have already been saved.
Final steps in installing Windows 10
Windows 10 asks if you want to pair your phone to your PC. This functionality, which goes through the Your phone application, allows you to receive and send SMS, answer calls, consult your photo gallery, and even launch applications ... All this from your computer, provided you own an Android smartphone.
Another step: activate or not OneDrive. If you are using a local account, and not a Microsoft account, you can skip this step. Otherwise, this feature is particularly useful for uploading files to the Cloud, and then retrieving them from any other Windows PC, Android smartphone or tablet, iPhone, etc. By default, Microsoft offers 5 GB of free space to each OneDrive user. For a fee, it is possible to increase this capacity to 100 GB (€ 2 / month), 1 TB (€ 7 / month or € 69 / year), or even to 6 x 1 TB for the Microsoft 365 Home edition (10 € / month or € 99 / year for 6 people in a household). But between OneDrive, Google Drive, Dropbox or even SugarSync and Box.com, Cloud services are numerous. We do not encourage you more towards one than the other. On the other hand, OneDrive has a major advantage: it is so well integrated into Windows 10 that its use becomes completely transparent. And if you ever want to get rid of it, it is quite possible to deactivate it or permanently delete OneDrive.
It's almost finished: Windows 10 finally offers you to activate or not Cortana. As a reminder, Cortana is an assistant similar to Siri or Google Assistant: it allows you to perform local or web searches, launch certain applications, add events to your calendar, etc. Launched in 2014, Cortana today tends to disappear. Microsoft does not change it much, and the small icon that allows you to activate it from the search field of the Taskbar has completely disappeared. The service is sorely lacking in relevance and is light years away from what the competition can offer on smartphones or tablets.
Once Windows 10 is installed, what reflexes to adopt?
That's it, Windows 10 is installed on your PC, you can start using it. But above all, an update is needed. Because even having downloaded the latest version of the operating system, there is always one or two updates of Windows 10 to perform, it is inevitable. Proceed as follows:
Click on the button Start at the bottom left
Go to the icon Parameters (represented by a small toothed wheel)
Head on Update and security
From section Windows Update, Click on the button Check for updates
New updates should then appear and be automatically downloaded and installed. The operation will require a restart of the PC, after which the Windows 10 update (s) will be installed.
Do you absolutely have to use a USB key when you already have Windows 10?
It is perfectly possible to reset Windows 10 without going through a boot disk or USB key. Do not hesitate to take a look at our tutorial on the subject, we will explain in detail how to go about it: how to reset Windows 10 without losing your files.
Note also that depending on the manufacturer of your PC, it is possible that a PC reset partition, specific to the manufacturer, has been set up. Thanks to it, no need to do a boot key: a menu at PC startup allows you to restore the PC to its initial state. Note, however, that this practice tends to get lost, since Windows 10 already offers a way to reset a PC using a recovery partition.
Finally, last detail: almost all Microsoft Surface devices benefit from a unique and life-saving function. On these machines, when the system crashes totally and even a factory reset does not solve the problem, it is possible to download Windows 10 directly from the BIOS / UEFI of the device.