Windows 10 asks you for a password or a PIN code every time you launch it? Here is how to disable this kind of request and thus start the system faster.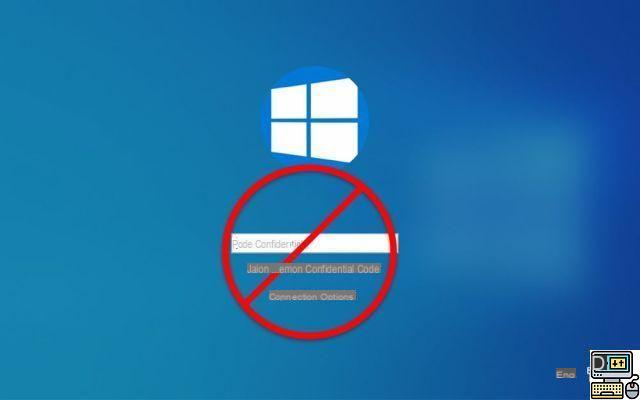 With each of its updates, Windows 10 reinforces its level of security. If multiple protection features are now available within the Windows Security module and its companion Windows Defender, Microsoft also requires that the user systematically identifies himself using a password, a PIN code or by biometric recognition. Now, when you install Windows 10 or when you completely reset it, you are asked to choose a Windows Hello passcode, which you will then use to log into the system each time you start your PC.
If you regularly use your own PC outdoors, or if it is the company's machine, then obviously this code is particularly useful in preventing data theft. Same thing if you don't want the home PC to be used by other family members without your consent. In contrast, if you think that your session can be freely used by other people, or if you are the only one to use your machine, the password required by Windows 10 from the start can quickly become restrictive. Also, disabling this kind of requirement should save you even more time when starting Windows 10. So there is a way you can do this. start the system without having to systematically enter a password or a 4-digit code. However, be careful not to leave your machine in the wrong hands, as the system is no longer protected by authentication. Here's the procedure to follow :
Click on the button Start from the taskbar, then go to the module Parameters (symbolized by a toothed wheel). Then go to the option Accounts.
In the left menu, click on the function Connection options. There you find different possible ways to log into Windows. In the latest editions of Windows 10 (remember that the system benefits from a major update every 6 months or so), Microsoft's OS uses Windows Hello by default. This can take the form of facial recognition, fingerprint recognition, a PIN code or a security key.
Scroll down the window to find the option titled Require sign-in to Windows Hello for Microsoft accounts. Set it to disabled.
Simultaneously press the keys [Windows] + [R] or in the search field, enter the term perform. In the small window that then appears, simply type Control Userpasswords2 and validate using the button OKAY.
The User Accounts Manager opens. You should see all the accounts configured on your PC, including yours. Uncheck the option Users must enter a username and password to use this computer. Click on Apply.
A new window will then appear. In the game Username, Come in email-address which you used to register and configure Windows 10. Then enter the mot de passe associated with this e-mail address, then type it again to validate it. Finally press the OK button.
Restart Windows 10, to verify that the changes have been applied and that you are not asked for a PIN code or password at startup.