Microsoft is doing everything to make Edge your default browser on Windows 11. While on Windows 7 and 11, it was relatively easy to change this setting, the task looks more difficult on the next operating system. Indeed, it will be necessary to select the desired browser for each type of file.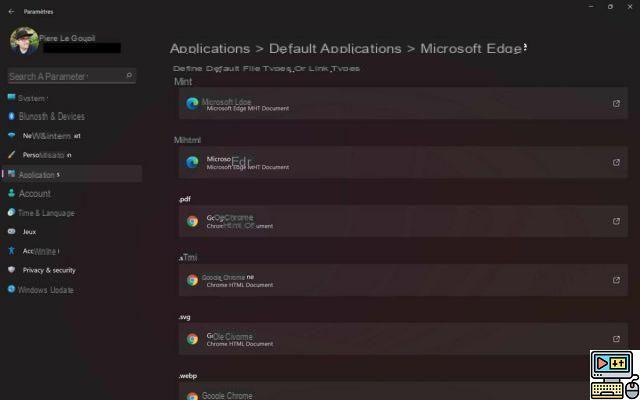 Windows 11 reveals itself a little more every day and most of the new features are welcome, in an operating system which, it must be said, sometimes lack of ergonomics. Still, some surprises aren't as good as others. For example, we learned that Windows 7 users will have to say goodbye to their data if they want to migrate to the latest version.
Understandably, Microsoft is also looking to promote their own services as much as possible. This is how we find ourselves having to create a Microsoft account to install Windows 11 (fortunately, it is possible to deactivate it right after). We thus find this philosophy in the selection of the default browser. Without surprise, when installing the OS, it is Edge.
How to change your default browser on Windows 11
Nothing serious, you tell us. On Windows 10, as on Windows 7 moreover, simply go to the Settings and select the default application in each category (mail, photo, video, or browser therefore). Only here, this Settings panel has undergone a major overhaul in Windows 11. And what was once simple as pie has become a long boring chore.
From now on, you will have to select the desired browser for each file format: HTM, HTML, PDF, SHTML, SVG, WEBP, SHT, FTP, HTTP, and HTTPS. Impossible to do a group action, you will have to click on the drop-down menu to modify the application one by one. Note that the panel even includes optional file formats that you can configure.
Related: Windows 11 — check if your computer is supported with this list of compatible motherboards and chipsets
Here is how to change your default browser on Windows 11:
Open the panel Parameters
See you in Applications
Click on Default applications
Select the desired browser
Click on file format htm
Select the desired browser and confirm
Repeat the operation for all file formats
It's unclear what prompted Microsoft to make this bizarre decision to change a once quick and easy process into a painful operation. If not perhaps the will of discourage users from using a browser other than Edge. Hopefully this new feature will not pass the beta phase.