That's it, there we are: Microsoft has put an end to Windows 7! The end of the operating system was scheduled for January 14, 2020, and Microsoft has kept its schedule, no reprieve has been granted to the OS. If the system continues to run smoothly, it will no longer be patched in the event of a security breach or minor bug. It is therefore time to opt for a new version of the system, Windows 10 in this case. The good news is, it won't cost you a dime. Here's how you go about migrating from Windows 7 to Windows 10 for free.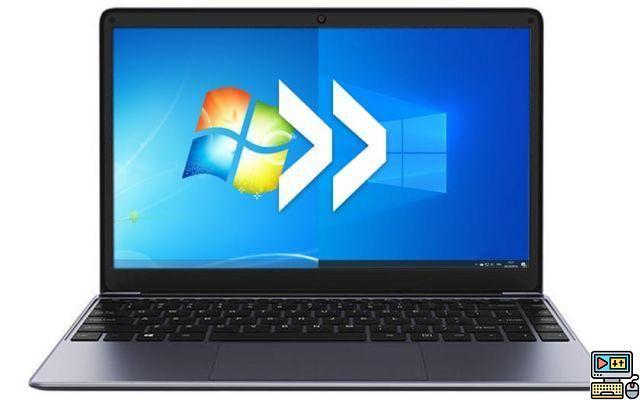 Why does the end of Extended Support mean the death of Windows 7?
Microsoft has set the shutdown of Windows 7 for January 14, 2020, obviously to the benefit of Windows 10, which already has more than 900 million users around the world. Rest assured, the operating system continues to function, but this deadline corresponds to stopping all "extended support" for Windows 7 Service Pack 1. This means that after this date there will be no more security updates, no more fixes. Only the Pro and Enterprise editions of Windows 7, which are currently bombarded with notifications to switch to Windows 10, can opt for paid support for another three years.
Now, if a flaw in the operating system were to be detected, it would no longer be fixed. Same thing if a problem preventing the proper functioning of the system is identified. It will not be resolved. Note all the same that nothing prevents Microsoft from making some very occasional updates: this has already happened with Windows XP in the past. In 2017, the Redmond-based company was urgently updating all of its operating systems, even older ones, because of WannaCry. In May 2019, Microsoft relapsed and filled a flaw in Windows XP on the occasion of Patch Tuesday ... While all extended support for Windows XP has been stopped since April 2014.
Note also that the "standard support" of Windows 7 has been stopped since January 13, 2015. The standard support corresponds to the improvements that Microsoft can make to its operating system. So it's been a while since Microsoft added new features to its OS.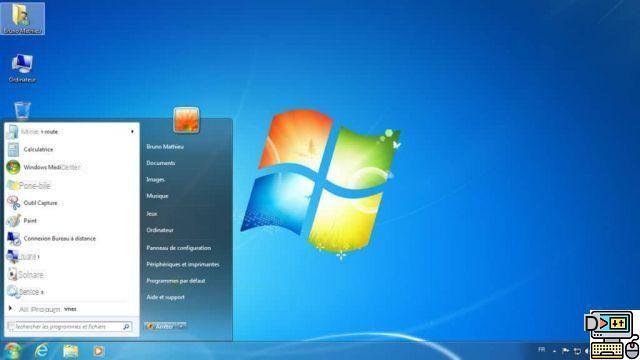 In addition, one can also count on software publishers, and in particular browsers and antiviruses, to keep updating their apps. In general, the support for these software extends for 2 or 3 years after the discontinuation of that for Windows. The good news is that Microsoft has also promised to extend the life of its own solution, Microsoft Essential Security.
Windows 7 is therefore not going to stop working overnight. On the other hand, you could find it increasingly difficult to install the drivers for new hardware, to take advantage of a new application and to protect your machine from intrusion attempts. In short, prevention is better than cure. If you decide to ditch the operating system, there are several alternatives available to you. You can of course turn to the competition: there are different alternatives to Windows 7, including a host of Linux distributions, each more relevant than the last. You also have the option of turning to macOS, although this option requires the purchase of a new machine.
The last and most common alternative is to migrate from Windows 7 to Windows 10. If you've been using Windows 7 for several years, you shouldn't be lost. The two versions differ in some respects, but their environments remain similar and most of the configuration options are the same. The other advantage is that the switch from Windows 7 to Windows 10 is completely free, as long as you already have a valid Windows 7 license.
Read also: despite the imminent death of Windows 7, Microsoft's system remains as popular as ever
1) Check that your configuration supports good Windows 10
For reasons of obsolescence (who said programmed?), your setup may not be able to accommodate Windows 10. Microsoft specifies that its operating system is compatible with the following minimum requirements:
Processor: 1 GHz
Memory for 32-bit system: 1 GB
Memory for 64-bit system: 2 GB
Storage space for 32-bit system: 16 GB
Storage space for 64-bit system: 32 GB
Screen resolution: 800 x 600
To this are also added some material requirements, like a fairly recent graphics card (an old model bought under XP or Vista may not work, it all depends on the manufacturer's goodwill when it comes to updating the drivers). In short, if the list of hardware necessary to make Windows 10 work is quite detailed, you are not immune to a bad surprise during the installation.
Note that the Windows 10 update tool delivered by Microsoft is also a good way to check the compatibility of your configuration.
2) First of all, make a backup of all your personal data
If in the vast majority of cases the migration proceeds without any problem, there is still a very low percentage of users for whom setting up Windows 10 is a problem. In order to avoid loss of personal data, we strongly advise you to put them away, whether in the Cloud, on an external medium or another partition of your hard drive.
First, a simple copy and paste of all your documents, music, emails, photos and video to this external medium may be sufficient. Note that Windows 7 also includes an automated backup tool, accessible from the Control Panel and the System and Security> Back up computer options. In doing so, you should secure most of your most valuable data. And if all your data is saved on both the hard drive and the Cloud (OneDrive, Google Drive, Dropbox…), you don't have to do anything. Also remember to synchronize your browser data on the Cloud: all browsers worthy of the name now allow you to keep your data on the Web (password, favorite, history, etc.), in order to retrieve them on another device or through another installation of Windows.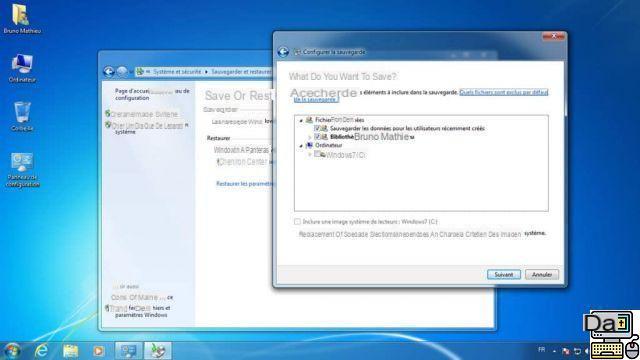 A second alternative is to back up your entire Windows partition, or even your entire hard drive. There are dozens of tools capable of performing this operation, such as Easeus Todo Backup or Macrium Reflect Free, and which consist in creating a perfect image of the hard drive. The advantage of this kind of solution is that you can later mount the image created by the program, in order to find a particular file that was damaged during the migration to Windows 10, and restore it. The second advantage is that this type of image can restore the entire system and its documents on your hard drive, in case things go really wrong. Finally, note that you can also create a Windows 7 system image directly through the tool provided by Microsoft. This is accessible from the Control Panel, and the System and Security> Backup and Restore> Create a system image (left column) options.
3) Migrate from Windows 7 to Windows 10
Its good, you're ready to switch from Windows 7 to Windows 10. In theory, the migration pays off, since Microsoft ended its free update program in January 2018. But that's the theory. Because in reality, it is always possible to enjoy Windows 10 for free from a workstation equipped with Windows 7. For this, two options are available to you:
Download the upgrade tool from Microsoft. Launch it in order to run the update from Windows 7 to Windows 10. The operation will in the best case take about 7 minutes. Depending on your configuration and your Internet speed, it may take several hours. Keep in mind that Windows 4 will first download at least 10 GB of data, which it will then decompress, then install. Several restarts will be required, after which you should have a shiny new Windows 7. You should also find all the applications you use in Windows XNUMX, your documents, your browser and email preferences, etc.

In the event that the upgrade tool denies you the migration from Windows 7 to Windows 10, especially after January 14, 2020, all is not lost. The tool for customers using assistive technologies can be used. This small program is not experiencing the crisis and has been extending the upgrade time for many years. The system update is carried out in the same way as with the update tool (download, decompression, installation of the OS).
In any case, once the system is installed, remember to update the OS immediately. Click the Start button at the bottom left, then go to Update & Security> Windows Update. Check for updates and install them. Here you are in control of a state-of-the-art Windows 10, without having to pay a single penny.
Finally, last point, and not the least: once Windows 10 is installed, some of your components may not be recognized. In that case, feel free to take a look at our other tutorial on updating or installing drivers on Windows 10.