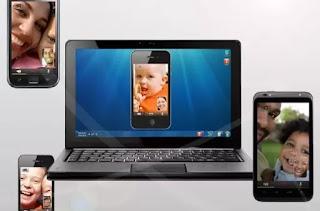 There was a time when the only way to verse in videochat from the PC was NetMeeting, a Microsoft program that allowed you to communicate via webcam video with other people, but it worked badly mainly because the connections were slow. Today, when the internet is fast, it is possible not only to chat with someone by seeing their beautiful big face on the computer screen, but also to make group video conferences, for free and without limits. In this article we find out
the best free videochat for PC
to use for
make online video calls
, private,
with webcam and microphone
.
This type of programs and applications can also be used as
real videoconferencing platforms
which, in some cases, have little to envy to those
Professional
that are used in companies. Therefore, not only calls to distant family members, but with videoconferencing it is also possible to work remotely without problems, eliminating borders and allowing unnecessary waste of travel and employee movements. There are many different apps or programs to make video calls from PC, so let's see here
the best online video chat programs and applications
some of them are also excellent for creating free videoconferencing.
1)
Skype
is one of the best online video chat programs available, very popular all over the world. Skype allows you to
make free group video calls
between registered users and it works incredibly well, in an immediate way like making a phone call. We tend to prefer Skype over other applications because almost everyone has already installed it on PCs and also on phones.
2) The best application to make videochat and video calls even in groups and up to 100 participants at the same time could be
Google Meet
, the most advanced version of Google Hangouts, completely
free
, all online and free. The advantage of being a web app is that participants are not required to install programs, they can only share the link to join the videoconference.
3)
Microsoft Teams is the free app for organizing remote work
, which also supports virtual videoconferencing meetings.
4)
Jitsi
is an instant web application that allows you to create online video conferences without downloading anything and also without any account registration. Jitsi Meet has many cool features, including Dropbox video recording, YouTube integration so you can start a live stream or watch a video together, the "raise your hand" feature to grab attention when you want to talk.
5)
Zoom, one of the most used programs for conference calls
is an online video conferencing service with a free basic plan in which it is possible to communicate in videochat with up to 100 people, for 40 minutes per video call.
6)
Jio Meet
is the best free video conferencing app for business meetings, given the things it allows you to do in the free account. The most impressive functions are the recording and the notes. The host can record the entire video call for up to one hour, free of charge or it can be downloaded. Recordings are available for up to three months. During the call, the host can also press Alt + N to add screen notes, to keep a journal, or to write down important things said. Roundee allows you to be online in a group video call with up to six people. It also integrates with Slack.
7)
On Facebook you can make video calls
also from PC. This service is perfect for video calling friends, also because it is integrated in Facebook Messenger and able to work without problems on any platform, computer or smartphone.
Also noteworthy is the function
Messenger Rooms
, to host group video call sessions of up to 50 people, for free and with no time limits.
8)
Viber
It is famous as a free mobile phone call and texting app, but it is also available as a PC program for making free video calls. This software is available for almost all major platforms, both landline and mobile, you just need to register with your mobile number and add contacts.
9)
Slack is the apps for group work and video conferencing
have been described in another article.
10 )
IMO Messenger
is another important software that is available for most platforms, both computer and mobile, which can be used on any device to make video calls. It is a classic chat software, similar to Messenger, easy to use and immediate.
11 )
FaceTime
is an Apple app that only works on iPhones, iPads and Macs, not on Windows PCs. For those who use only Apple devices it is a great way to communicate for free in video calls.
12 )
Tango
is an application specialized in video calls that was created only for iPhone and Android, but also available in a web version and therefore also usable from a PC.
13 )
Proficonf
is a videoconferencing web app that can be used for free for videochat with up to 25 participants in a videoconference.
14 )
Conferring
(formerly VZO Chat) is an easy to use and completely free program to create video conferences even with 100 people at the same time. All participants must install the program which uses a proprietary video queue and which works even if the connection is slow. The videochat can be recorded, it can be full screen and 6 windows can be kept open at the same time
15 )
Free Conference Call
allows you to meet anyone face to face within the web browser and it is also possible to create a personalized web page with your profile and a unique URL to be presented to the participants in the videoconference. The tool is very easy to use and there is no need to register on the site to create a meeting room.
16 )
HouseParty
is a video calling app which is a social network. The idea is to start a video call with friends and leave the room open for other friends to join. If you want a private cideochat then you can lock the room.
17 )
PaltalkScene
is a software of
crane videochat
ppo suitable for meetings between several people. The nice thing about this program is that you can use it with some popular instant messaging clients including Yahoo and ICQ and you can also chat in a traditional textual way. In reality this program is not too suitable for the in your languagen public, however it is not bad.
18 )
Talky.io
is a quick and easy website where you can create a video chat room of up to 15 participants, on the fly and without registration.
19 )
Camfrog
it is not a web application but a really great program for Windows, Mac and Linux, to download and install on your computer. Camfrog serves a
create rooms for video chat with friends and colleagues and allows you to create video conferences even at a professional level
. Camfrog is quite powerful, it also works behind firewalls, routers and wireless networks and allows you to create one on one video conferences or chat rooms with multiple people. CamFrog is also proposed as a video chat to meet new people and provide subscription plans to unlock advanced features.
20 )
TinyChat
allows you to create one-click chat and videochat sessions that are deleted at the end. There is no need to register and conversations can be saved to text files or sent to GMail or Twitter. TinyChat can be used directly on a blog or website by adding the appropriate button that also shows the number of users online at that time. You can also make a video call or videoconference with 12 participants and an unlimited number of people who can attend, see and hear. There is no need to download anything, it works directly from an internet browser and there is no registration.
Very close to the topic is also the article on
best web services for calling from the internet in VOIP, free or almost
.
Best free video chat for PC and video conferencing programs